High-quality durable fabric

Incredibly soft and breathable

100% Cotton

Made in Egypt

Wholesale Pricing

Available in stock for immediate shipping

No minimum order quantity

All in one BOX
300 TC
TC
TC, Thread count refers to the number of horizontal and vertical threads per square inch. Generally, the higher the thread count, the softer the fabric, and the more likely it will wear well and soften over time but also this depend on the weave construction, Percale or Sateen.
At White Chamber, Our Expert Textile Engineer believe that the ideal Thread count for a Percale is 300 and for Sateen 400 and higher.
Premium Bed Linen Set
Get your duvet cover, bed sheet and pillowcases all in one bundle!
As a leading linen supplier, we provide hotel-quality bed sets for Airbnb hosts & short-term vacation rentals.
This Bed Linen Set is all you need to undergo a major makeover to your hotel bedroom. This 100% cotton bed set includes a soft and durable 300 thread count flat sheet, a duvet cover and two pillowcases for single and double beds and four pillowcases for queen and king beds.
Woven from our homegrown cotton, our premium bed linens with high thread counts offer great breathability and an exceptional soft feel that guarantees a restful night's sleep for your guests.
Our premium white bed linen has the bed essentials with a 300 TC flat sheet, a smooth duvet cover and comes in packs of two pillowcases for single and double beds, and four cases for queen and king size beds.
Made from the finest cotton percale, our crisp white bed sheets are very durable and are available in various sizes for single, double, queen and king to suit any bedroom style.
Our duvet covers work as a perfect final touch to any hotel bedroom. That super soft and warm layer adds comfort and feels so pleasant against the skin. These white duvet covers come in an open bag style along with a small opening at the top of each side which makes changeover and fitting the duvet inside the duvet cover much easier. They also cover all bed types.
Our pillowcases are incredibly soft and smooth and are finished with an overlapping envelope closure from the back giving your bed a more finished look.
Upgrading your hotel, Airbnb or guest house bedrooms with our bed linen set is a great way to improve your guests' bedtime experience.
100% Cotton
Percale weave , 300TC
SIZE
DUVET COVER
FLAT SHEET
Single set
W150xL230 cm
W190xL300 cm
Double set
W200xL230 cm
W240xL300 cm
Queen set
W230xL230 cm
W270xL300 cm
King set
W260xL230 cm
W300xL300 cm
All of our bed linen sets come with standard size pillowcases (50 x 70 cm)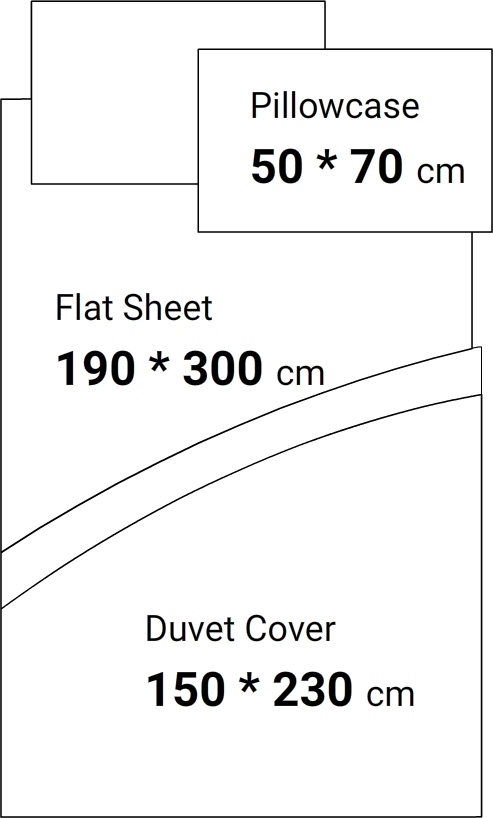 Single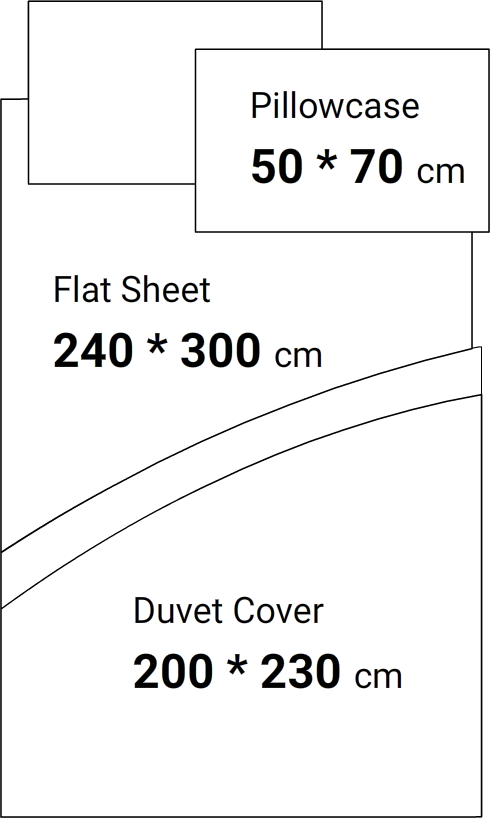 Double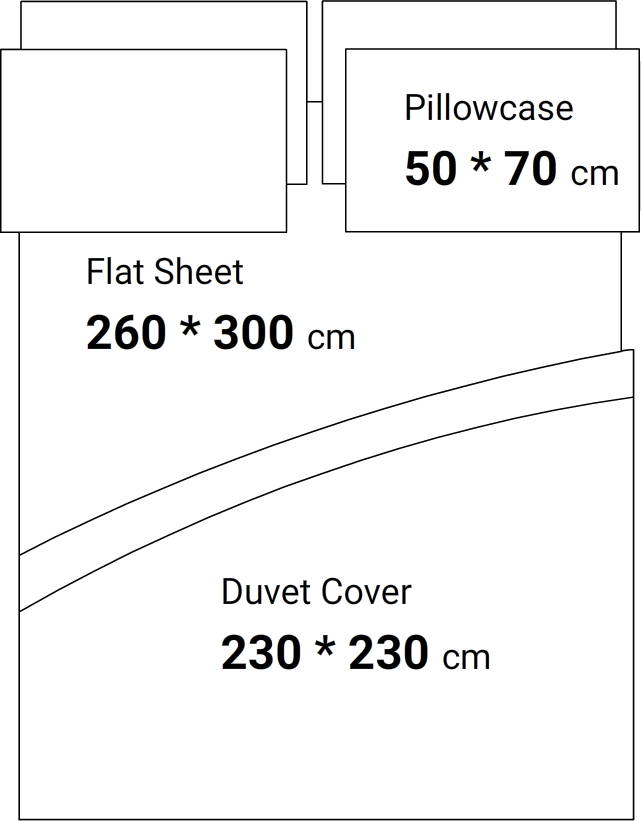 Queen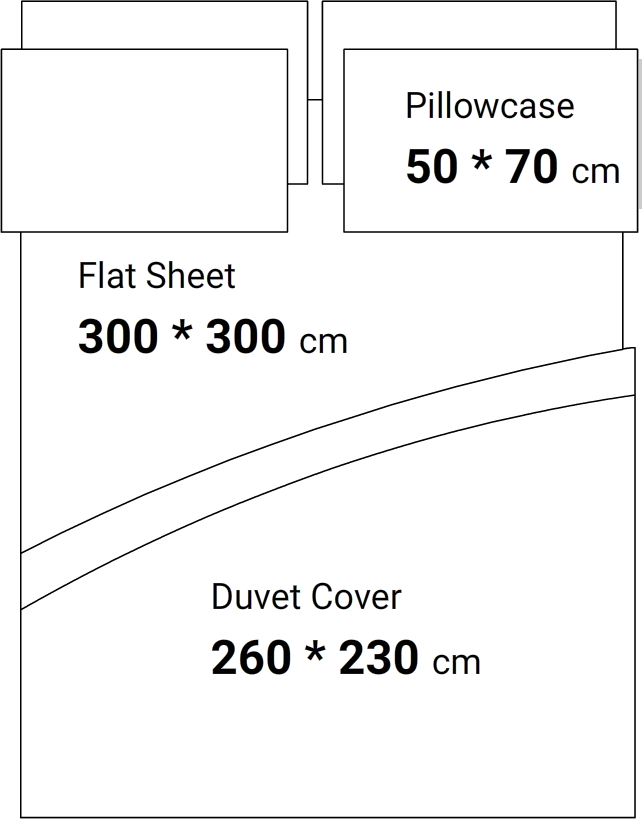 King
Our bed sets sizes can be easily identified with our colour code stitching and size labels hidden under one side of the items' seam.
SINGLE
1 duvet cover • 1 flat sheet • 2 envelope pillowcases
DOUBLE
1 duvet cover • 1 flat sheet • 2 envelope pillowcases
QUEEN
1 duvet cover • 1 flat sheet • 4 envelope pillowcases
KING
1 duvet cover • 1 flat sheet • 4 envelope pillowcases