Percale or Sateen. Which weave is best for your boutique hotel bedding?
---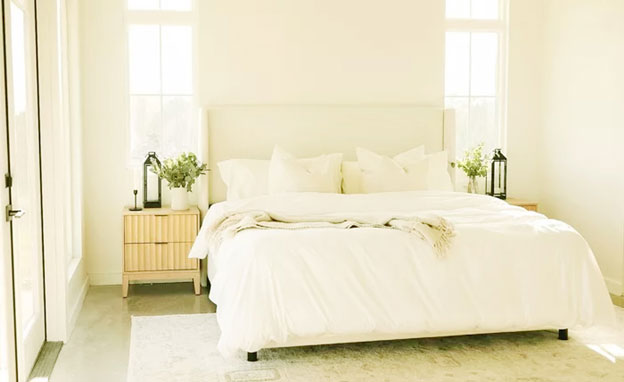 When looking for high-quality bed sheets and duvet covers, you will most likely come across two options, Percale and Sateen, and you may be wondering which bedding weave is best for your boutique hotel rooms.
Other fabrics, such as Twill, Jersey, and Patterned, are available, but the ones we\'ll go over are the most common.
Good bedding is the foundation for any luxury bed, and the feel and appearance of your bedding are determined by the weave of the fabric.
After reading this article, you should be able to identify these weaves from across the bedroom and know which one to choose.


Let's look at their characteristics, mechanics, and pros and cons for each.
Percale:
They\'re a popular bed sheet option because they\'re lightweight and breathable, similar to Percale pillowcases. When purchasing sheets & covers for your boutique hotel, consider all factors to find the one that is best for your room, including material and thread count.
Of course, the fibers of the fabric play a major role in the feel and quality of bedding, but Percale sheets are generally durable, soft, and easy to care for.

Remember that Percale is a weave, not a material. This means that Percale sheets could be made from a variety of materials. They have a simpler weave with a matte finish and a crisp hand feel.

Percale sheets are usually better suited to the warmer months when sleepers are trying to stay fresh and clean due to their high breath ability. It is frequently regarded as the best type of covers for people who sleep hot.
Again, the first thing you\'ll notice is that Parcel sheets have a more matte appearance, which means they\'re not shiny.



How it's made
Percale is a fabric weave with a simple crisscross pattern. These cotton fabric sheets have a one-yarn-over weave pattern in the shape of a grid. The longer the thread fibers, the better the quality. The thread count on most percale sheets is at least 200.
Percale sheet sets are typically made of high-quality cotton fibers, such as long or extra-long staple cotton. However, not all Percale bedding is made entirely of cotton; some Percale sheets are made from a cotton blend that includes other fabrics such as silk or rayon.
Pros:
- Durable
- Low Maintenance
- Breathable
- Smooth
- Lightweight
- Affordable
Cons:
- Prone to wrinkling in the wash
- Only used in a warmer climate
SATEEN
Sateen sheets have a heavier, smoother finish with a silky feel and a slight sheen, and they drape beautifully. These sheets are heavier on the body and naturally wrinkle-resistant, so they have a smooth appearance without the need for ironing.
Those who get cold during the night may appreciate the extra warmth.
How it is made
Sateen has a three over one under weave that traps more heat, making it a great choice for the cooler months.
It is made from cotton fibers and woven in multiple threads in the same direction
to
dominate both surfaces.
Sateen sheets, with their thicker yarn size, can keep your hotel room warmer all year.
Sateen sheets are soft and, depending on the yarn type, can be a little slippery. It also necessitates a higher thread count due to the increased use of cotton, which results in a higher price.
Pros:
- Resistant to wrinkles
- Silky-smooth texture
- Slight sheen
- Drapes well
Cons
- Sheen could fade
- May retain heat
- Could bunch due to slippery finish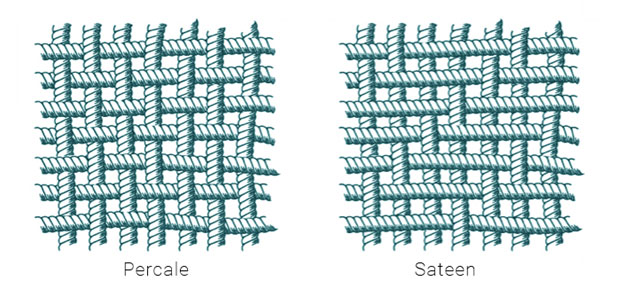 Our Verdict
Whether you choose Percale or Sateen bedding is entirely a matter of personal taste and the mood you want to create in your boutique hotel room. Both are well-liked for a reason, and either one could result in a restful night's sleep.
Consider the terms "warm" and "cool." While many people prefer to sleep on Percale sheets all year, these bedding options are especially suitable for the warmer months of the year. The plain weave of the fabric allows for airflow, keeping your guests cool and comfortable in the Spring and Summer. Sateen, on the other hand, is typically thicker and more densely woven. It has a soft, inviting feel to it, making it ideal for snuggling up in bed during the cold winter months.
Finally, many boutique hotels have both and alternate between them depending on the season, with Sateen sheets in the winter and Percale sheets in the summer.