Airbnb White Linens & Some Décor Tips
---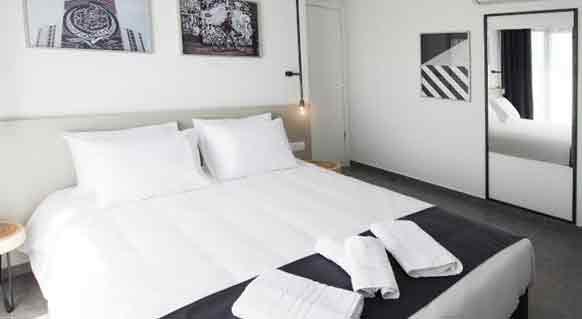 It's no surprise that hotels frequently use white linens. Yes, some use darker sheets to hide stains but this doesn't work all the time and you can't bleach coloured sheets.
Using white linens for your Airbnb property will allow you the choice of bleaching them completely if they get stained.
For starters, choosing white may seem a little bit odd, but you don\'t want linens to disguise stains. Because they are white, stains are easy to notice, allowing you to guarantee that your guest house beds are spotless. Guests may sleep soundly knowing they are in a fresh, clean bed. White linens are extremely practical, too. They can be bleached when needed.
White also feels luxurious – and relaxing. Crisp white linens feel inviting and create a blank canvas to build from. They never go out of style or season.
Continue reading to learn what elements you could include to create a beautiful, welcoming space for your visitors:
Fresh white towels
A good idea is to add fresh white towels to your clean bedding. Fold them neatly and arrange them in a visible location for the guests. Also, nothing beats a pile of soft, fluffy hand towels and washcloths ready to be used after a pleasant shower at the end of a long day.

Bathrobes in the wardrobe
Bathrobes are seldom brought with travelers, despite the fact that they are useful items of clothing. By providing your visitors with their own, they will be able to move to and from the bathroom and out of their rooms in the morning without having to change their clothes.
A bedside table and reading lamp.
Everyone likes to sleep with something nearby, such as a bottle of water or a book. A bedside table is an affordable option to keep their essential items close at hand.
Another, low-cost addition to the table is a light. A relaxing bedroom lamp for reading at night.
Convenient power outlets for phones and tablets
Almost everyone has a cellphone and other devices that require overnight charging. Give them a simple approach to do so that does not need them to move furniture or crawl about on their hands and knees. Extension cables on both sides of the bed will be appreciated. Provide a universal charger for cell phones if feasible. This can be challenging, but you never know who has thought of everything and who has forgotten their phone chargers.
Homemade brochure
Print a guide with general information about the room. WIFI password, emergency numbers, and mention or tape "how to use" notes on items.
A comfy chair and a desk.
If you have the space, consider placing a chair in a corner or a bench at the foot of the bed. It\'s ideal for tossing clothing at the end of the day, setting down a pocketbook or bag, or putting on shoes. You may also put new towels or a welcome box on the bench before your guests arrive.
If you have visitors who will be staying for a lengthy amount of time, they may require a temporary workspace. When outside their home, it may be difficult to find a quiet spot where they can concentrate on important matters. A desk/workstation is also a good idea.
Mirror and hooks
Install a full-length or round mirror on the back of the door or in an inconspicuous location so that your guests may inspect their outfits without leaving the room. Hooks are a simple storage solution, especially in smaller rooms that may lack space for a wardrobe or a proper closet, allowing your visitors to effortlessly hang up their clothes and coats.